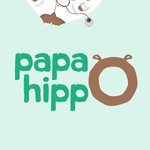 Michael Tjandra
papahippO is the happy hippo family ilustration design, for kids and adult ages. Simple and fun designed, with some fun and meaningfull peace and humour messages along with the ilustration. papahippO family are papaO (big daddy), mamaO (his wife), and their two lovely kids: Tifanny and Danilo. papaO is a best daddy also a good doctor, her wife mamaO is a happy women. She love shopping and cooking. Tifanny like reading a book and she swimming almost everyday. Her little brother, Danilo is like a soccer and wants to be best soccer player in the world someday. Michael Tjandra joined Society6 on December 9, 2014
More
papahippO is the happy hippo family ilustration design, for kids and adult ages. Simple and fun designed, with some fun and meaningfull peace and humour messages along with the ilustration.
papahippO family are papaO (big daddy), mamaO (his wife), and their two lovely kids: Tifanny and Danilo. papaO is a best daddy also a good doctor, her wife mamaO is a happy women. She love shopping and cooking. Tifanny like reading a book and she swimming almost everyday. Her little brother, Danilo is like a soccer and wants to be best soccer player in the world someday.
Michael Tjandra joined Society6 on December 9, 2014.