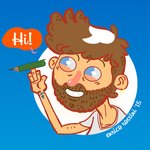 -PAPER HEART-
Thank you for appreciating and buy my art. I would be happy to get a picture of you with the item purchased (only if you want). It will soon be posting on my blog ... and in my heart. Email: parklife13@hotmail.com Follow me on: paperheartillustration.tumblr.com https://twitter.com/Enrico_Rossini1 http://paper-rodrigo.deviantart.com/ -PAPER HEART- joined Society6 on March 23, 2013
More
Thank you for appreciating and buy my art. I would be happy to get a picture of you with the item purchased (only if you want). It will soon be posting on my blog ... and in my heart.
Email: parklife13@hotmail.com
Follow me on: paperheartillustration.tumblr.com https://twitter.com/Enrico_Rossini1 http://paper-rodrigo.deviantart.com/
-PAPER HEART- joined Society6 on March 23, 2013.
Popular+bags by -PAPER HEART-
0 result
Filter