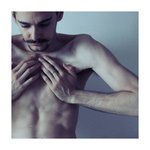 Paride Mirabilio
Digital artist "in bloom". ​Paride Mirabilio was born in Pescara October 30, 1989, spending his childhood in Cervia and returning in the province of Pescara where he lives to this day. He takes the artistic maturity in Architecture and Design at the Art School and enrolled at the Faculty of Architecture at the University Gabriele D'Annunzio in Pescara, but left school after only one year, targeting his research on other expressive possibilities. Until unites the mind and began a fruitful four hands collaboration with Alessandra Antonucci, in January 2011, creating bluntly. Initially working together as a costume and set designers for a theater workshop, bring costumes for the Regina, Italian Tribute Band of Queen, and dealing with various works of art and tailoring. At the same time carries out research on himself through photography, with some Self Portrait, graphics in such a kind way that he was noticed, published by "The Irreplessibles" for a cover reworking he has designed independently. Now he moved to Berlin for new Inspirations.. Paride Mirabilio joined Society6 on August 23, 2013
More
Digital artist "in bloom".
​Paride Mirabilio was born in Pescara October 30, 1989, spending his childhood in Cervia and returning in the province of Pescara where he lives to this day. He takes the artistic maturity in Architecture and Design at the Art School and enrolled at the Faculty of Architecture at the University Gabriele D'Annunzio in Pescara, but left school after only one year, targeting his research on other expressive possibilities. Until unites the mind and began a fruitful four hands collaboration with Alessandra Antonucci, in January 2011, creating bluntly. Initially working together as a costume and set designers for a theater workshop, bring costumes for the Regina, Italian Tribute Band of Queen, and dealing with various works of art and tailoring. At the same time carries out research on himself through photography, with some Self Portrait, graphics in such a kind way that he was noticed, published by "The Irreplessibles" for a cover reworking he has designed independently.
Now he moved to Berlin for new Inspirations..
Paride Mirabilio joined Society6 on August 23, 2013.
Paride Mirabilio's Store
35 results
Filter