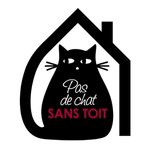 Pasdechatsanstoit
"Pas de Chat sans Toit" is an french association of animal protection. We take care of cats abandoned in the pounds of the South of the Department of Deux-Sèvres (France). We place them in a temporary host family, look after them, restore them trust in the human being and we find them a family for the life. To be able to continue to help them and to save them, we propose you these by-products. All the profits are entirely refunded to the association. http://www.pasdechatsanstoit.fr/index.php https://www.facebook.com/pasdechatsanstoit/ Pasdechatsanstoit joined Society6 on June 26, 2016
More
"Pas de Chat sans Toit" is an french association of animal protection. We take care of cats abandoned in the pounds of the South of the Department of Deux-Sèvres (France). We place them in a temporary host family, look after them, restore them trust in the human being and we find them a family for the life. To be able to continue to help them and to save them, we propose you these by-products. All the profits are entirely refunded to the association.
http://www.pasdechatsanstoit.fr/index.php https://www.facebook.com/pasdechatsanstoit/
Pasdechatsanstoit joined Society6 on June 26, 2016.