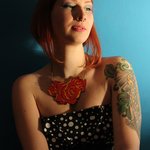 PassingEcho
I ♥ photography!! Art is my life, my passion and my job. Colorful flower photography / Nature photography / Urban Art / Fine Art Photography / Still Life Photography / Fine Art Prints / Landscape Photography / I chose photography as the main medium of my work. Through photography, I attempt to capture the beauty in ugly and plain, a prominent peculiarity in seen and dull and record and show all the stuff that people accept as everyday and and no more notes. I am interested in tactile objects and small parts of it`s compound. In photography, my main interests are industrial architecture and macro photography of nature. Photographing empty and abandoned factory halls and industrial spaces I`m trying to point the flow of time and to encourage creative thinking about re-use those spaces. PassingEcho joined Society6 on October 24, 2014
More
I ♥ photography!! Art is my life, my passion and my job.
Colorful flower photography / Nature photography / Urban Art / Fine Art Photography / Still Life Photography / Fine Art Prints / Landscape Photography /
I chose photography as the main medium of my work. Through photography, I attempt to capture the beauty in ugly and plain, a prominent peculiarity in seen and dull and record and show all the stuff that people accept as everyday and and no more notes. I am interested in tactile objects and small parts of its compound. In photography, my main interests are industrial architecture and macro photography of nature. Photographing empty and abandoned factory halls and industrial spaces Im trying to point the flow of time and to encourage creative thinking about re-use those spaces.
PassingEcho joined Society6 on October 24, 2014.