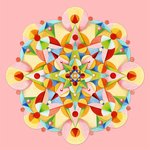 Patricia Shea Designs
I love painting and designing and have been a professional artist for my entire career. I originate all my work in Winsor and Newton watercolours on Arches hot press watercolour paper blocks. I am a published artist and designer living in Maine and I began my career in the fashion industry in New York as a textile designer. My freelance work has been featured in such stores as Bloomingdale's and Macy's and I am now pursuing selling my art through print on demand venues. I create my designs in collections with the driving idea of mix and match - perhaps an allover t in one design mixing and matching with another similar but different from the same collection - same for pillows, a wonderful home decor look methinks! ***Please be in touch if you would like a design scaled smaller - I do tend to do large scale designs...or another change of layout and I will do my best to accommodate*** Please join me on: Facebook: http://www.facebook.com/PatriciaSheaDesigns Twitter: https://twitter.com/ArtandCake Pinterest: http://www.pinterest.com/patriciasheaart/ Spoonflower: http://www.spoonflower.com/profiles/patricia_shea Patricia Shea Designs joined Society6 on January 31, 2012
More
I love painting and designing and have been a professional artist for my entire career. I originate all my work in Winsor and Newton watercolours on Arches hot press watercolour paper blocks. I am a published artist and designer living in Maine and I began my career in the fashion industry in New York as a textile designer. My freelance work has been featured in such stores as Bloomingdale's and Macy's and I am now pursuing selling my art through print on demand venues.
I create my designs in collections with the driving idea of mix and match - perhaps an allover t in one design mixing and matching with another similar but different from the same collection - same for pillows, a wonderful home decor look methinks!
Please be in touch if you would like a design scaled smaller - I do tend to do large scale designs...or another change of layout and I will do my best to accommodate
Please join me on: Facebook: http://www.facebook.com/PatriciaSheaDesigns Twitter: https://twitter.com/ArtandCake Pinterest: http://www.pinterest.com/patriciasheaart/ Spoonflower: http://www.spoonflower.com/profiles/patricia_shea
Patricia Shea Designs joined Society6 on January 31, 2012.
Rectangular Pillows by Patricia Shea Designs
363 results
Filter
Department

Dept

Pillows & Bedding

Products

Rectangular Pillows