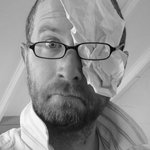 Patrick Latimer
My name is Patrick Latimer and I'm an illustrator and cartoonist. I live and work in a coastal valley on the edge of Cape Town. From my upstairs studio window I can see trains, submarines and sometimes a closeup of a baboon's bum. My work is strongly conceptual and often humourous. I use pencil, ink, paint and moldy old paper scanned in and combined in Photoshop. Patrick Latimer joined Society6 on October 2, 2012
More
My name is Patrick Latimer and I'm an illustrator and cartoonist.
I live and work in a coastal valley on the edge of Cape Town. From my upstairs studio window I can see trains, submarines and sometimes a closeup of a baboon's bum.
My work is strongly conceptual and often humourous. I use pencil, ink, paint and moldy old paper scanned in and combined in Photoshop.
Patrick Latimer joined Society6 on October 2, 2012.
Patrick Latimer's Store
72 results
Filter