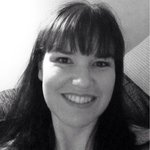 Pattern Penny
Penny is a freelance surface pattern designer and illustrator at a new company called Pattern Penny, situated in Borås, Sweden. Her passion for colour, pattern and design aesthetic is something that Penny developed at a very young age. After graduating from RMIT University, Melbourne Australia, with a BA in Textile Design, Penny has worked as a designer for both the home interior and the fashion markets. With many years of experience she has designed for Textile Design Studios in both Australia and the UK. Most recently Penny worked as a childrens' wear designer for a major swedish fashion company. Since Pennys move from Australia to Sweden 15 years ago, she has become fluent in swedish and has developed a love for swedish folklore, retro porcelain and Scandinavian style and aesthetics. She is also influenced by the purity of colour and patterns in nature and the mirrored patterns in The Arts & Crafts Movement. Whimsical animals and flowers are among Penny's favourite themes but she is also passionate about geometric and holiday subjects. Her artwork is witty, cheerful and naive, designed with a commercial colour palette. Please feel free to check out more of my work :-) Web: http://patternpenny.com/ Instagram: https://instagram.com/patternpenny/ Facebook: https://www.facebook.com/patternpenny Blog: http://patternpenny.com/category/blog/ Email: penny@patternpenny.com Twitter: https://twitter.com/patternpenny Pattern Penny joined Society6 on October 7, 2014
More
Penny is a freelance surface pattern designer and illustrator at a new company called Pattern Penny, situated in Borås, Sweden. Her passion for colour, pattern and design aesthetic is something that Penny developed at a very young age. After graduating from RMIT University, Melbourne Australia, with a BA in Textile Design, Penny has worked as a designer for both the home interior and the fashion markets. With many years of experience she has designed for Textile Design Studios in both Australia and the UK. Most recently Penny worked as a childrens' wear designer for a major swedish fashion company. Since Pennys move from Australia to Sweden 15 years ago, she has become fluent in swedish and has developed a love for swedish folklore, retro porcelain and Scandinavian style and aesthetics. She is also influenced by the purity of colour and patterns in nature and the mirrored patterns in The Arts & Crafts Movement. Whimsical animals and flowers are among Penny's favourite themes but she is also passionate about geometric and holiday subjects. Her artwork is witty, cheerful and naive, designed with a commercial colour palette.
Please feel free to check out more of my work :-)
Web: http://patternpenny.com/
Instagram: https://instagram.com/patternpenny/
Facebook: https://www.facebook.com/patternpenny
Blog: http://patternpenny.com/category/blog/
Email: penny@patternpenny.com
Twitter: https://twitter.com/patternpenny
Pattern Penny joined Society6 on October 7, 2014.