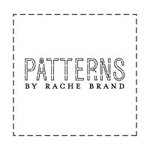 patternsbyrache
Repetition breeds creativity. Patterns are by nature repetitious acts of movement and visual.
I love to make patterns.I am the pattern maker... and chief inventor of all things associated with this site. Some of the work is very personal, other projects are just documentation and a few pieces are still open-ended library materials which can be purchased and used. I love what I do and hopefully you will see the passion in my work.
If you are interested in working together, email me.
Read more
patternsbyrache's Store
Filter