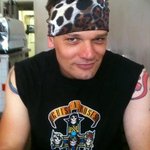 Paul Abstruse
As a Tattooist: Paul has work in the industry for about 4-5 years. He started back when he was 26 and work in a few stores in the inner-west of Sydney, Australia. He honed his craft doing walk-ins and custom jobs. He then left the industry for a while to persue travel and his comic book work. Recently, in the last two years, he has come back to this amazing artform. He now specifies in GEEKY orientated tattoos. He uses his 10+ years experience in the Comic book art world and translates it into amazing, bold and vibrant tattoos. With very few people actually specialising in this field Paul is able to bring to life any dream that a customer may have. From a Hellboy sleeve to a small Pokemon tattoo. Paul always take the time to sit down and make sure that you recieve a quality, affordable and unique tattoo that brings to surface the inner Geek. As a Comic Book Artist: Paul started working in a comic book store in Newtown, Sydney, Australia when he was 21. It was at that time he went to his first comic book convention and developed an interest in drawing comic books after seeing David Yardin's portfolio. He produced his first book "How Abstruse". More of a fanzine and a social commentary on his life, his father saw it and suggested that he do it properly. 6 issues later he had drawn his first series "The Cyst" Originally a post appocalyptic story (Later it was converted to a spoof under the guise of Chicky Edward). A writer by the name of Christian Read spotted his work and teamed up with him to do a proposal for a Graphic novel called "Witchking" It was accepted by a local publisher by the name of "Phosphorescent comics". That series took about 4 years to complete part time. Once he had completed it he moved onto a series by the name of "The Watch". It was only web published. Burnt out he took a break from comic books for about 4 years and then came back to it under the guise of Chicky Edward (His pornstar name). He published two books under that name The Cyst and The Big Burlesque Variety Show. Both were meant to be in poor taste...and they acheived it. Since then he's self published two sketchbooks and one pin up book "Full Lips". This is most of the books he's worked on in recent times: Pre 2011: "The Cyst" graphic novel "Witch King" graphic novel "The watch; Cathexes" first part. Web comic. "the Big Burlesque Variety show" trade. "Heroine Addict" Web comic. 2011 * Velocity Anthology #1 2012 * Zenescopes "1000 ways to die" graphic novel. * "Showdowns, Shoot outs and Rivalries" online childrens book. * Killeroo: Gangwars * Zenescopes "Grimm Fairy tales: Angel one shot" * Zombie cities 2013 * Zombie cities 2 * Decay #15 Currently he's working on two creator owned projects. #1 The Left hand path: A modern supernatural horror written by Jason Franks. 6 part series #2 Enormis: A sci-fi steampunk thriller written by Hayden Fryer. 7 Very long parts. Fan page link: https://www.facebook.com/Enormisthecomic Paul Abstruse joined Society6 on July 19, 2013
More
As a Tattooist: Paul has work in the industry for about 4-5 years. He started back when he was 26 and work in a few stores in the inner-west of Sydney, Australia. He honed his craft doing walk-ins and custom jobs. He then left the industry for a while to persue travel and his comic book work. Recently, in the last two years, he has come back to this amazing artform.
He now specifies in GEEKY orientated tattoos. He uses his 10+ years experience in the Comic book art world and translates it into amazing, bold and vibrant tattoos. With very few people actually specialising in this field Paul is able to bring to life any dream that a customer may have. From a Hellboy sleeve to a small Pokemon tattoo. Paul always take the time to sit down and make sure that you recieve a quality, affordable and unique tattoo that brings to surface the inner Geek.
As a Comic Book Artist: Paul started working in a comic book store in Newtown, Sydney, Australia when he was 21. It was at that time he went to his first comic book convention and developed an interest in drawing comic books after seeing David Yardin's portfolio. He produced his first book "How Abstruse". More of a fanzine and a social commentary on his life, his father saw it and suggested that he do it properly. 6 issues later he had drawn his first series "The Cyst" Originally a post appocalyptic story (Later it was converted to a spoof under the guise of Chicky Edward). A writer by the name of Christian Read spotted his work and teamed up with him to do a proposal for a Graphic novel called "Witchking" It was accepted by a local publisher by the name of "Phosphorescent comics".
That series took about 4 years to complete part time. Once he had completed it he moved onto a series by the name of "The Watch". It was only web published. Burnt out he took a break from comic books for about 4 years and then came back to it under the guise of Chicky Edward (His pornstar name). He published two books under that name The Cyst and The Big Burlesque Variety Show. Both were meant to be in poor taste...and they acheived it.
Since then he's self published two sketchbooks and one pin up book "Full Lips". This is most of the books he's worked on in recent times:
Pre 2011: "The Cyst" graphic novel "Witch King" graphic novel "The watch; Cathexes" first part. Web comic. "the Big Burlesque Variety show" trade. "Heroine Addict" Web comic.
2011
2012
Zenescopes "1000 ways to die" graphic novel.
"Showdowns, Shoot outs and Rivalries" online childrens book.
Killeroo: Gangwars
Zenescopes "Grimm Fairy tales: Angel one shot"
Zombie cities
2013
Zombie cities 2
Decay #15 Currently he's working on two creator owned projects. #1 The Left hand path: A modern supernatural horror written by Jason Franks. 6 part series
#2 Enormis: A sci-fi steampunk thriller written by Hayden Fryer. 7 Very long parts. Fan page link: https://www.facebook.com/Enormisthecomic
Paul Abstruse joined Society6 on July 19, 2013.
Biker Tanks by Paul Abstruse
8 result
Filter