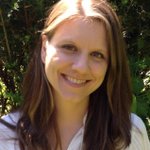 Paula Menetrey
I have always felt a deep connection with animals, which is why they have long been the subjects of my art. By painting portraits of rescued farm animals, I want to convey their beauty in a way that helps people to understand that they are emotional and sentient beings, worthy of our love and admiration.  My hope is that people will look into their eyes and see that they are no different from dogs, cats, humans, or any other creature.  The animals I paint have names and are cherished.  I want that sentiment to work to change people's perceptions, even on a subconscious level, so that the made-up categories that we've put animals in start to dissolve.  There should be no difference between chickens and cats.  All animals are individuals and deserve our protection.  I am also interested in animals as archetypal symbols.  My allegorical work combines realistically drawn and painted animals and people with intuitive, organic, non-representational environments. I am especially interested in understanding the personal meanings of animal encounters in my dreams, and discovering the symbolic messages of animals as spirit guides and teachers of humans. Paula Menetrey joined Society6 on May 5, 2014
More
I have always felt a deep connection with animals, which is why they have long been the subjects of my art. By painting portraits of rescued farm animals, I want to convey their beauty in a way that helps people to understand that they are emotional and sentient beings, worthy of our love and admiration.  My hope is that people will look into their eyes and see that they are no different from dogs, cats, humans, or any other creature.  The animals I paint have names and are cherished.  I want that sentiment to work to change people's perceptions, even on a subconscious level, so that the made-up categories that we've put animals in start to dissolve.  There should be no difference between chickens and cats.  All animals are individuals and deserve our protection.
I am also interested in animals as archetypal symbols.  My allegorical work combines realistically drawn and painted animals and people with intuitive, organic, non-representational environments. I am especially interested in understanding the personal meanings of animal encounters in my dreams, and discovering the symbolic messages of animals as spirit guides and teachers of humans.
Paula Menetrey joined Society6 on May 5, 2014.