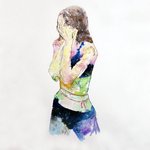 Paula Sifora
Hi! I'm Paula Sifora, creative illustrator and designer Málaga, Spain. In this place you can find some objects with my illustrations. I´m open to commissions. If you need any design or illustration, please contact me: paulasifora@gmail.com You can see more works in: web: http://www.paulasifora.tk facebook page https://www.facebook.com/paulasifora Paula Sifora joined Society6 on August 9, 2013
More
Hi! I'm Paula Sifora, creative illustrator and designer Málaga, Spain.
In this place you can find some objects with my illustrations. I´m open to commissions. If you need any design or illustration, please contact me: paulasifora@gmail.com
You can see more works in:
web: http://www.paulasifora.tk
facebook page https://www.facebook.com/paulasifora
Paula Sifora joined Society6 on August 9, 2013.