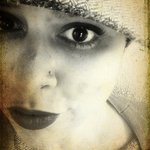 Pauline Campos
About Pauline Campos
Pauline Campos is Latina Magazine's #DIMELO love, advice, & relationship columnist. Her print column launched in August 2013 & her weekly online column appears on
www.latina.com
. Pauline is the Aspiringmama with the blog to match, founder of the #Chingonafest Fridays feature (Pili Montilla, Helen Troncoso, and BOTH of The Comedy Girls, Jenni Ruiza & Jesenia The Comedian, have already been featured on aspiringmama.com!)
Pauline also blogs for Amtrak's Descubre Norteamérica website (just google "Mexican on a train"), is trying to raise her daughter to be a Chingona (on purpose), and she's the Mexican in Maine who happens to like it there.
Artwork also on Etsy (look up #mexicaninmaine) and #chingonafest products (#chingonafet, obviously!); Zazzle: Store names AspiringMama and ChingonaFest)
Email aspiringmama@gmail.com for speaking engagement requests.
Pauline Campos joined Society6 on April 29, 2014.