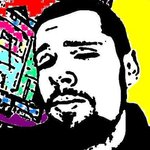 Paul James Farr
Paul James Farr graduated from The University of Hull with a BSc (Hons) in Computer and Business Informatics in 2011.
He has an interest in future technologies and digital mediums and is hoping to undertake a postgraduate course in the not too distant future to further his studies.
He enjoys images and designs that make you smile and when not trying to design witty and amusing t-shirts wiles his time away photographing just about anything that moves (as well as a fare amount of stuff that doesn't).
"What can I say; I like what I like... I hope you enjoy my work. x o x o x"
• All clothing, artwork and writing featured is Copyright © Paul James Farr. All rights reserved. It does NOT belong to the public domain and may not be copied or reproduced in any shape or form without his prior written permission.
website ⇒ http://www.pauljamesfarr.webs.com twitter ⇒ http://www.twitter.com/pauljamesfarr instagram ⇒ https://www.instagram.com/pauljamesfarr/ zazzle ⇒ http://www.zazzle.co.uk/pauljamesfarr redbubble ⇒ http://www.redbubble.com/people/pauljamesfarr/shop
Read more
Paul James Farr's Store
Filter