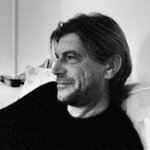 Paulmeddler
Worthing based (penniless) artist influenced by Pink Floyd, Monty Python, Dali, Sci Fi, Max Ernst, Magic Roundabout, Remedios Varo, Tommorows World and The Orb among a constellation of others. Just want my work to be seen by as many people as possible and earn a lving...oh and be MASSIVE!! No PC/Mac invlovement, although camera and mobile apps as well as canvas, paints and glue involvement undeniable. Most projects considered. Web presence on Eyeem, Flickr, Instagram, PicsArt, Deviant Art, Pictify and more. Like Comment Love Buy Enjoy Paulmeddler joined Society6 on September 1, 2013
More
Worthing based (penniless) artist influenced by Pink Floyd, Monty Python, Dali, Sci Fi, Max Ernst, Magic Roundabout, Remedios Varo, Tommorows World and The Orb among a constellation of others.
Just want my work to be seen by as many people as possible and earn a lving...oh and be MASSIVE!! No PC/Mac invlovement, although camera and mobile apps as well as canvas, paints and glue involvement undeniable. Most projects considered. Web presence on Eyeem, Flickr, Instagram, PicsArt, Deviant Art, Pictify and more. Like Comment Love Buy Enjoy
Paulmeddler joined Society6 on September 1, 2013.
Paulmeddler's Store
8 result
Filter