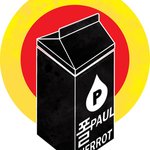 PAUL PiERROt
HELLO :) WELCOME TO PAUL PIERROT'S WEIRD WONDERLAND!!!!
I DUN KNOW YOU WHO BOUGHT MY TEE AND OTHER STUFFS HERE ON SOCIETY6.
THANK YOU SO MUCH FOR LOVE MY DESIGN. 감사합니다. :D
SOLDIER NO DOUBT FOR HIS RIFLE!!
I KNOW SOME PPL GONNA SAY MY DESIGNS ARE NOTHING AND SUCKS.. EVEN I SAY WTF ON WORLD FAMOUS ARTISTS WORKS.
IT'S COLLECTIBLES!!!!! IF YOU ALREADY BOUGHT MY DESIGN OR WANT TO BUY LATER, DUN ENJOY ON YOUR EYES IT ALONE!!! ACTION! EGNITION!! PLZ LET YOUR FRIENDS KNOW! FAR AS YOU CAN PLZ AND MAYBE BIRTHDAY GIFT FOR THEM! OR TREAT YOURSELF AGAIN! THANK YOU!
IF YOU WANT ME TO MAKE SOME SPECIFIC DESIGN, LET ME KNOW! EMAIL ME! DUN BE SHY AND I'M NOT A BAD GUY!! ;D EVEN IT'S YOUR SMALL FAVOR, LOVE TO COMMUNICATE AND DO MY BEST AS I CAN WITH YOU!
HAVE A NICE DAY!!!! 좋은 하루 보내세요!!!! r'ㅁ')r lol... YOU WANNA KNOW ME MORE? PLZ ASK ME! I'M OPEN 7 DAYS A WEEK! YEH-
my web: http://www.paulpierrot.com sorry under constructiong! Facebook page https://www.facebook.com/paulpierrotweirdwonderland
my email: paulpierrot@hotmail.com
Read more