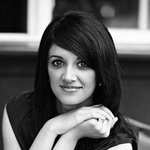 payalprints
I'm a passionate graphic designer, marketer, pet owner and wife. Originally from London, I grew up with a love for beautiful art and design. I have been blessed with great success designing for top tier companies. Typography and patterns are my forte—the foundation on which I design my art prints. All my art prints can be juxtaposed for a bold, modern and whimsical look—I want you to have fun with the process! My goal is for these art prints to bring your homes to life in an easy, affordable, and beautiful way. I am thrilled to share my art prints with you! payalprints joined Society6 on November 22, 2014
More
I'm a passionate graphic designer, marketer, pet owner and wife. Originally from London, I grew up with a love for beautiful art and design. I have been blessed with great success designing for top tier companies. Typography and patterns are my forte—the foundation on which I design my art prints.
All my art prints can be juxtaposed for a bold, modern and whimsical look—I want you to have fun with the process! My goal is for these art prints to bring your homes to life in an easy, affordable, and beautiful way. I am thrilled to share my art prints with you!
payalprints joined Society6 on November 22, 2014.