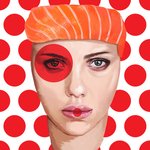 Pazu Cheng
Hello, i am PAZU from Hong Kong, i love drawing, movie & music! To all buyers, thank you very much to bought some items I designed, and if you can send me a picture of you and the item you bought at pazucheng@gmail.com. I will be very happy and thanks! email : pazucheng@gmail.com Pazu Cheng joined Society6 on March 3, 2013
More
Hello, i am PAZU from Hong Kong, i love drawing, movie & music!
To all buyers, thank you very much to bought some items I designed, and if you can send me a picture of you and the item you bought at pazucheng@gmail.com. I will be very happy and thanks!
email : pazucheng@gmail.com
Pazu Cheng joined Society6 on March 3, 2013.