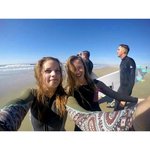 peanutbuttajennie
My name is Jennifer Paganetti and I am a graphic artist living and working in southern California. I grew up on the east coast and am obsessed with surf culture. I went to school for Fine Art for a year then transferred into a school with a Graphic Design program instead. I moved across the country to attend FIDM (Fashion Institute of Design and Merchandising) to continue my education and further develop my talents in art and surfing.
I graduated from FIDM in Los Angeles and have been building my resume by freelancing for a variety of notable action sports brands. I am now working full time as a Graphic and Textile Designer for a large footwear company. I love to do freelance work for awesome local clients to help hone my design skills. I specialize in logos, branding, and apparel.
My boyfriend Steve and I are also self-taught surfboard shapers. Together we started a small shaping business called Even Keel Surf Shapes. We work out of our garage and are learning more with every board we shape. We shape retro style boards that are suitable for mellow southern Californian surf.
http://paganettidesign.com/
http://evenkeelsurfshapes.com/
Read more
peanutbuttajennie's Store
Filter