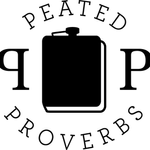 Peated Proverbs
St. Louis duo Amber, a graphic designer, and Jordan, a part-time bar keep, combine their penchants for design, booze, and a good quote to form Peated Proverbs. Whiskey tinged wisdom and gin soaked musings from admirable artists, writers, poets, statesmen, and other lofty lushes. Follow us on Facebook! www.facebook.com/PeatedProverbs Peated Proverbs joined Society6 on July 2, 2013
More
St. Louis duo Amber, a graphic designer, and Jordan, a part-time bar keep, combine their penchants for design, booze, and a good quote to form Peated Proverbs.
Whiskey tinged wisdom and gin soaked musings from admirable artists, writers, poets, statesmen, and other lofty lushes.
Follow us on Facebook! www.facebook.com/PeatedProverbs
Peated Proverbs joined Society6 on July 2, 2013.
Peated Proverbs's Store
57 results
Filter