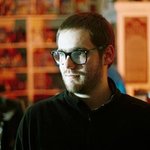 Pedro Santasmarinas
Pedro Santasmarinaswas born 24 September 1989, in Oporto.
 He graduated in Cinema and Audiovisual at Escola Superior Artística do Porto.
 In most of his work he has acted as director, but he also has worked as a director of photography and editor.
 Being a huge comics and animation enthusiast he also develops works in those areas, mostly as a Story Board artist.
 He also was one of the founding members of Cineclube from Maia in 2009.
Read more
Pedro Santasmarinas's Store
0 results
Filter