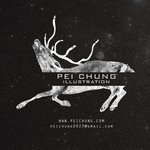 peichung
Hong Kong-based Peichung Illustrations specialises in a wide range of one-of-a-kind artwork, ranging from watercolour, pen and ink and beyond.
Peichung Illustrations creates eye-catching illustrations on a vast array of subject matter, including still lifes, drawings of pets, wildlife and nature, along with abstract pieces, works in the product and marketing genre and beyond. Peichung Illustrations also specialises in Asian-themed artwork.
Peichung Illustrations is available to take on a wide range of freelance projects for clients.
http://www.facebook.com/PeichungIllustration/
Read more