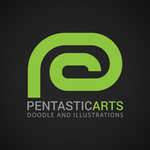 Pentasticarts
For the most part, Joseph is a self-taught artist, By day, he works in a corporate company as a graphic designer. By night, Joseph takes on personal and contracted projects reflecting his utmost passions, in a variety of media and for a variety of awesome clientele. Joseph's lifelong interest in the metaphysical and the surreal, nostalgic memories are a heavy influence in the creation of his art. He has a taste for both the abstract and the mundane in his life and art. Pentasticarts joined Society6 on September 23, 2014
More
For the most part, Joseph is a self-taught artist, By day, he works in a corporate company as a graphic designer. By night, Joseph takes on personal and contracted projects reflecting his utmost passions, in a variety of media and for a variety of awesome clientele.
Joseph's lifelong interest in the metaphysical and the surreal, nostalgic memories are a heavy influence in the creation of his art. He has a taste for both the abstract and the mundane in his life and art.
Pentasticarts joined Society6 on September 23, 2014.