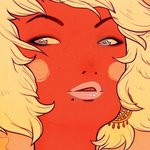 Edge
I love art! Although I started off with an interest in various areas, all of them were focused around the element of creativity. I still love to experiment with various mediums and techniques. While I am primarily a digital artist, I am a graduate of Advanced 3d Animation from the Media Design School, New Zealand. I'm currently living in Burnaby, BC, Canada. Website: www.artofedge.com Tumblr: www.artofedge.tumblr.com Deviantart: www.artofedge.deviantart.com Facebook Page: https://www.facebook.com/TheArtOfEdge Edge joined Society6 on November 7, 2011
More
I love art! Although I started off with an interest in various areas, all of them were focused around the element of creativity. I still love to experiment with various mediums and techniques. While I am primarily a digital artist, I am a graduate of Advanced 3d Animation from the Media Design School, New Zealand. I'm currently living in Burnaby, BC, Canada.
Website: www.artofedge.com Tumblr: www.artofedge.tumblr.com Deviantart: www.artofedge.deviantart.com Facebook Page: https://www.facebook.com/TheArtOfEdge
Edge joined Society6 on November 7, 2011.
Prints by Edge
31 results
Filter