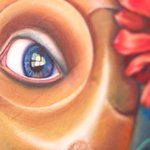 Adriana Pérez Orozco
Hi, my name is Adriana. I'm a Colombian artist and designer. My home changes country every couple of years and at the moment I live with my family in Tunisia. It's Been almost 30 years since I fell head over heels about arts and until today my passion hasn't slow down for a second. If you want to know more you can go check out me webpage www.perezorozco.com I have originals and limited edition prints and a couple more cool things. ​ ​ Adriana Pérez Orozco joined Society6 on April 25, 2013
More
Hi, my name is Adriana. I'm a Colombian artist and designer. My home changes country every couple of years and at the moment I live with my family in Tunisia. It's Been almost 30 years since I fell head over heels about arts and until today my passion
hasn't slow down for a second.
If you want to know more you can go check out me webpage www.perezorozco.com I have originals and limited edition prints and a couple more cool things.
​
​
Adriana Pérez Orozco joined Society6 on April 25, 2013.