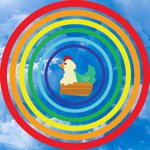 Perpetual Fungus
Perpetual Fungus is originally from East Side San Jose, California. Fungus has been flourishing on the border of Glendale and Eagle Rock for the last ten years. In 2006 during her brief stint in Santa Barbara she found her first bag of toys at a local thrift store and decided to take them on an adventure. Ever since then her art has been reproducing at an alarming rate. When not taking photos or enjoying the local cuisine, Fungus enjoys hanging out in dark places and can even be found occasionally forming symbiotic associations with living trees. She very much hopes you enjoy her art and hopes you too follow your creative heart! https://www.facebook.com/PerpetualFungus https://www.instagram.com/perpetualfungus www.perpetualfungus.com Perpetual Fungus joined Society6 on October 20, 2015
More
Perpetual Fungus is originally from East Side San Jose, California. Fungus has been flourishing on the border of Glendale and Eagle Rock for the last ten years. In 2006 during her brief stint in Santa Barbara she found her first bag of toys at a local thrift store and decided to take them on an adventure. Ever since then her art has been reproducing at an alarming rate. When not taking photos or enjoying the local cuisine, Fungus enjoys hanging out in dark places and can even be found occasionally forming symbiotic associations with living trees. She very much hopes you enjoy her art and hopes you too follow your creative heart!
https://www.facebook.com/PerpetualFungus https://www.instagram.com/perpetualfungus www.perpetualfungus.com
Perpetual Fungus joined Society6 on October 20, 2015.