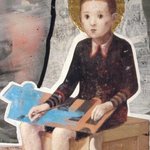 Pete Forester
Hey. I'm a Storyteller who lives in Brooklyn. How annoying is it is that I call myself a "Storyteller"? I say that because all of my interests end up revolving around telling a story - by text, film, theater, or in 2D visual mediums. And, really, when it comes down to it, we're all just looking for a good story. You can always visit my Tumblr over at http://PeteForester.Tumblr.com/ Pete Forester joined Society6 on December 17, 2009
More
Hey. I'm a Storyteller who lives in Brooklyn. How annoying is it is that I call myself a "Storyteller"? I say that because all of my interests end up revolving around telling a story - by text, film, theater, or in 2D visual mediums. And, really, when it comes down to it, we're all just looking for a good story.
You can always visit my Tumblr over at
http://PeteForester.Tumblr.com/
Pete Forester joined Society6 on December 17, 2009.
Pete Forester's Store
30 results
Filter