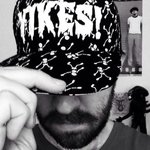 Peter Ahern
Well, well, well. Look what the cat dragged in. Welcome! I'm an award winning commercial animator living in NYC who likes to paint, illustrate and doodle in my spare time. I'm new to Society6, but excited for my first foray into an online marketplace. Always curious about who my audiance is and what products they like, so if you buy one of my designs, post yourself with it on Instagram and tag me @peter_ahern_ You can find more of my designs at my website: peterahern.com Thanks for stopping by! Peter Ahern joined Society6 on March 17, 2015
More
Well, well, well. Look what the cat dragged in. Welcome! I'm an award winning commercial animator living in NYC who likes to paint, illustrate and doodle in my spare time. I'm new to Society6, but excited for my first foray into an online marketplace.
Always curious about who my audiance is and what products they like, so if you buy one of my designs, post yourself with it on Instagram and tag me @peter_ahern_
You can find more of my designs at my website: peterahern.com
Thanks for stopping by!
Peter Ahern joined Society6 on March 17, 2015.