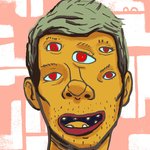 Peter Healy
I am an illustrator based in LA . I am originally from Ireland and moved here 7 years ago, its now home to me. My work is varied in topic and materials which I feel is a reflection of the multiculturalism of the city I live in. Peter Healy joined Society6 on November 23, 2012
More
I am an illustrator based in LA . I am originally from Ireland and moved here 7 years ago, its now home to me.
My work is varied in topic and materials which I feel is a reflection of the multiculturalism of the city I live in.
Peter Healy joined Society6 on November 23, 2012.