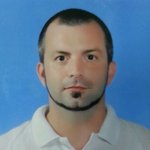 Peter Langan JR
33 year-old American artist living and working in Shanghai China. I was born in the suburbs of Washington, D.C. in 1982 and lived there until the age of 4. When my grandmother passed away, my father and I traveled throughout the United States. Sometimes living in a van and sometimes living with one of my father's five siblings. I began working at age 14 as an apprentice leathersmith, repairing and creating custom items such as horse equipment. I continued this job until I moved to Arizona at the age of 20. Current issues that I am dealing with in my work include finding my place in this country, juxtaposed with places (real or imagined) that I intend to arrive at one day. I received a BA of Art and Design from Towson university in 2013, my academic career focused mostly on sculptural and ceramic works. Today I teach English to children in Shanghai, China as well as continue to make art. Peter Langan JR joined Society6 on March 10, 2014
More
33 year-old American artist living and working in Shanghai China.
I was born in the suburbs of Washington, D.C. in 1982 and lived there until the age of 4. When my grandmother passed away, my father and I traveled throughout the United States. Sometimes living in a van and sometimes living with one of my father's five siblings. I began working at age 14 as an apprentice leathersmith, repairing and creating custom items such as horse equipment. I continued this job until I moved to Arizona at the age of 20.
Current issues that I am dealing with in my work include finding my place in this country, juxtaposed with places (real or imagined) that I intend to arrive at one day.
I received a BA of Art and Design from Towson university in 2013, my academic career focused mostly on sculptural and ceramic works.
Today I teach English to children in Shanghai, China as well as continue to make art.
Peter Langan JR joined Society6 on March 10, 2014.