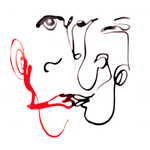 I AM NOT LEROY
Peter is a photographer that draws faces compulsively when he is not making pictures. At his studio in Cleveland, he primarily uses india ink on bristol paper to create his illustrations. But, now he is making a mess by experimenting with glitter. View his photography here: http://peterlarsonphoto.com His faces live here: http://iamnotleroy.com I AM NOT LEROY joined Society6 on October 27, 2011
More
Peter is a photographer that draws faces compulsively when he is not making pictures. At his studio in Cleveland, he primarily uses india ink on bristol paper to create his illustrations. But, now he is making a mess by experimenting with glitter.
View his photography here: http://peterlarsonphoto.com His faces live here: http://iamnotleroy.com
I AM NOT LEROY joined Society6 on October 27, 2011.