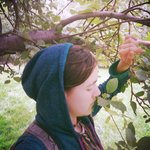 artoftheanimal
Welcome surfer of the inter-webs. You have stumbled across a small nook in this cybernetic forest inhabited by a goat. As you peer inside your eyes are set upon a visual story of earth's creatures. Curiously you venture inside leaving your uncertainty behind. *Phantasmic Arts @* "Tumblr":http://soulphantasma.tumblr.com/ - "Weasyl":https://www.weasyl.com/profile/phantasmic - "Furaffinity":http://www.furaffinity.net/user/phantasmic/ - "Facebook":http://www.facebook.com/artoffrankizinke artoftheanimal joined Society6 on November 5, 2013
More
Welcome surfer of the inter-webs. You have stumbled across a small nook in this cybernetic forest inhabited by a goat. As you peer inside your eyes are set upon a visual story of earth's creatures. Curiously you venture inside leaving your uncertainty behind.
Phantasmic Arts @ "Tumblr":http://soulphantasma.tumblr.com/ - "Weasyl":https://www.weasyl.com/profile/phantasmic - "Furaffinity":http://www.furaffinity.net/user/phantasmic/ - "Facebook":http://www.facebook.com/artoffrankizinke
artoftheanimal joined Society6 on November 5, 2013.