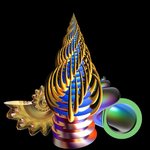 Torfinn Johannessen
Design made with love and a lot of passion ... My name Torfinn Johannessen. Born and raised in Mo i Rana, Norway. Moved to Jaemtland in 1989, with a break to Lapland from 2002-2007, and now I'm back again. Have photographed digitally since 2002 and think it's one of the most enjoyable things. I photograph most animals, birds and landscapes, but also some other things. I hope you find something you like! Stroemsund November 27th 2017 Torfinn Johannessen Torfinn Johannessen joined Society6 on November 6, 2016
More
Design made with love and a lot of passion ...
My name Torfinn Johannessen. Born and raised in Mo i Rana, Norway. Moved to Jaemtland in 1989, with a break to Lapland from 2002-2007, and now I'm back again. Have photographed digitally since 2002 and think it's one of the most enjoyable things. I photograph most animals, birds and landscapes, but also some other things. I hope you find something you like! Stroemsund November 27th 2017 Torfinn Johannessen
Torfinn Johannessen joined Society6 on November 6, 2016.