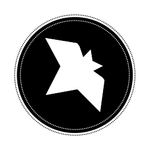 Phantom Designer
I'm a highly committed and versatile graphic designer specialising in print production, brand identities and logo design. My disciplines are as diverse as my clients ranging from music and club marketing campaigns to commercial briefs and corporate accounts. I really enjoy creative problem solving and I believe that a good idea combined with a great understanding of my clients demands is paramount to creating effective design solutions. I am primarily a print designer but have been edging my way into the digital field, an area of my work which I would greatly like to continue to develop. Phantom is a Freelance Print Production Graphic Designer and Artworker. Real name : M.D Dadrass Phantom Designer joined Society6 on August 7, 2013
More
I'm a highly committed and versatile graphic designer specialising in print production, brand identities and logo design.
My disciplines are as diverse as my clients ranging from music and club marketing campaigns to commercial briefs and corporate accounts. I really enjoy creative problem solving and I believe that a good idea combined with a great understanding of my clients demands is paramount to creating effective design solutions.
I am primarily a print designer but have been edging my way into the digital field, an area of my work which I would greatly like to continue to develop.
Phantom is a Freelance Print Production Graphic Designer and Artworker.
Real name : M.D Dadrass
Phantom Designer joined Society6 on August 7, 2013.