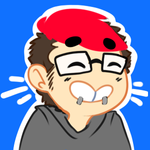 Phoebe Dumaresq
Hello! My name is Phoebe but everyone calls me Phee. I'm a freelance artist that simply loves to produce digital artwork because I love producing artwork. If you would prefer owning a personal piece of artwork, I do commissions! Info can be found here- http://pdumaresq.wix.com/art-portfolio#!commissionstos/cktm I also have a patreon if you would like to help support me- http://www.patreon.com/pheebadohdoh Phoebe Dumaresq joined Society6 on October 21, 2014
More
Hello! My name is Phoebe but everyone calls me Phee. I'm a freelance artist that simply loves to produce digital artwork because I love producing artwork.
If you would prefer owning a personal piece of artwork, I do commissions! Info can be found here- http://pdumaresq.wix.com/art-portfolio#!commissionstos/cktm
I also have a patreon if you would like to help support me- http://www.patreon.com/pheebadohdoh
Phoebe Dumaresq joined Society6 on October 21, 2014.