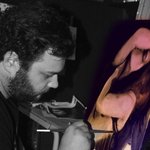 Phil Bembridge
Phil Bembridge is a visual artist based in the United Kingdom. Phil studied Art & Design at South Staffordshire College in 2010, studying various techniques and the history of art before deciding to refine his practice with oil painting and graphite drawing.
Phil's body of work focuses primarily on portraiture, landscapes and fantasy. Phil's paintings balance both meticulous brush strokes, loose energy these paintings take on abstractions with explosive colors and meandering lines.. His Drawings are figurative in nature, with a focus on detail and enhancing the values of light and dark.
Phil's work draws influences from a multitude of inspirations, from classical portraiture to the world of haute couture and with an appreciation for a refined technique that invokes the past but with a resolutely modern viewpoint.
Read more
Phil Bembridge's Store
29 results
Filter