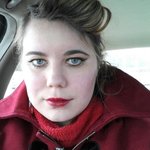 Jynxed
Please message me if you are interested in a commission. Commission price will be determined on a case-by-case basis depending on the size and the complexity. Feel free to email me for a quote on any idea you have. I will paint pet pictures, landscape photographs, fandom characters (sfw only), and most other ideas that you can think of, but cannot make yourself. Please remember that I work mostly in oil paint and sometimes acrylics. Commissions will be done on canvas and shipped to anyone in America after the canvas dries. It may take days to weeks to dry, depending on the thickness of paint. This will effect how quickly I get your commission to you. If you aren't from America, you can send me a message and we can work out the shipping price so that we are both satisfied. I reserve the right to maintain a digital copy of the work, and to sell prints of that work unless explicitly stated. I DO NOT give the commissioner rights to sell prints of the work for profit. Jynxed joined Society6 on August 14, 2015
More
Please message me if you are interested in a commission. Commission price will be determined on a case-by-case basis depending on the size and the complexity. Feel free to email me for a quote on any idea you have. I will paint pet pictures, landscape photographs, fandom characters (sfw only), and most other ideas that you can think of, but cannot make yourself.
Please remember that I work mostly in oil paint and sometimes acrylics. Commissions will be done on canvas and shipped to anyone in America after the canvas dries. It may take days to weeks to dry, depending on the thickness of paint. This will effect how quickly I get your commission to you. If you aren't from America, you can send me a message and we can work out the shipping price so that we are both satisfied.
I reserve the right to maintain a digital copy of the work, and to sell prints of that work unless explicitly stated. I DO NOT give the commissioner rights to sell prints of the work for profit.
Jynxed joined Society6 on August 14, 2015.
Jynxed's Store
18 results
Filter