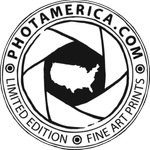 photamerica
The goal of PHOTAMERICA is to capture the beauty and character of modern America. I commenced this project in January of 2012 and traversed 50 States in 80 weeks, photographing and filming the breadth of each State, while collecting daily interviews from Americans across the country. Exploring the issues surrounding community, national pride and documenting the true stories of individuals, PHOTAMERICA is very much a community driven project that provides insight, provokes thought and offers a plethora of beautiful and enticing imagery that will connect the dots to build a bigger picture of modern America. In 2014 we are putting together all of our interviews and compiling them into our art installation STORY PROJECTORS which will travel to schools and film festivals as part of our new project heARTalot. We aim to activate, educate, and build community in and through the arts. All sales of art off of this site go to support heARTalot. Let's make the world a better place through the arts. photamerica joined Society6 on June 7, 2014
More
The goal of PHOTAMERICA is to capture the beauty and character of modern America.
I commenced this project in January of 2012 and traversed 50 States in 80 weeks, photographing and filming the breadth of each State, while collecting daily interviews from Americans across the country. Exploring the issues surrounding community, national pride and documenting the true stories of individuals, PHOTAMERICA is very much a community driven project that provides insight, provokes thought and offers a plethora of beautiful and enticing imagery that will connect the dots to build a bigger picture of modern America.
In 2014 we are putting together all of our interviews and compiling them into our art installation STORY PROJECTORS which will travel to schools and film festivals as part of our new project heARTalot. We aim to activate, educate, and build community in and through the arts. All sales of art off of this site go to support heARTalot. Let's make the world a better place through the arts.
photamerica joined Society6 on June 7, 2014.