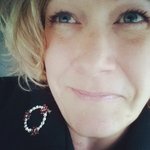 PhotoArtbyDiEtte ~ Artsy Pumpkin
As a child I always loved to draw, create and take pictures, but it wasn't until well into my adulthood that I really found my passion for it. When my daughter was born in 2004 I purchased my first "real" camera and a couple years later switched to digital. My passion in photography was for macro photography, children's portraits, nature and florals and naturally found that I also had a nack for creating fun designs with my images. Sometimes I create several designs out of one image, which has has turned me into something of a night owl! I think I could live to be 1,000 and never learn all the cool stuff you can do in Photoshop! I think I was born in the wrong era as I've always admired Vintage design, fashion and art, specifically Victorian. Some of my designs combine my love of photography and Vintage art to create unique collage art. PhotoArtbyDiEtte ~ Artsy Pumpkin joined Society6 on April 3, 2014
More
As a child I always loved to draw, create and take pictures, but it wasn't until well into my adulthood that I really found my passion for it. When my daughter was born in 2004 I purchased my first "real" camera and a couple years later switched to digital.
My passion in photography was for macro photography, children's portraits, nature and florals and naturally found that I also had a nack for creating fun designs with my images. Sometimes I create several designs out of one image, which has has turned me into something of a night owl! I think I could live to be 1,000 and never learn all the cool stuff you can do in Photoshop!
I think I was born in the wrong era as I've always admired Vintage design, fashion and art, specifically Victorian. Some of my designs combine my love of photography and Vintage art to create unique collage art.
PhotoArtbyDiEtte ~ Artsy Pumpkin joined Society6 on April 3, 2014.