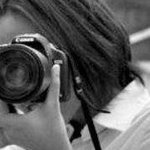 PhotoReel Imagery Photography
Welcome to my official website for PhotoReel Imagery! I fell in love with photography at the age of 14 when I was diagnosed with epilepsy and had my very first seizure. I was looking for a way to express myself and one day I picked up my point and shoot camera and just started taking pictures. From that point on photography has been a crucial part in my life and has always been a passion of mine. In the back of my mind I knew I always wanted to make this a big part of my life and eventually create a business out of it - since I loved it so much. And that is exactly what I am in the process of doing right now. :-) On my site I have available a variety of small to large format pictures of flowers, buildings, and other various still life with my DSLR. I am now extending my photography on to portraits. Thanks so much for the support! (C) PhotoReel Imagery PhotoReel Imagery Photography joined Society6 on April 3, 2013
More
Welcome to my official website for PhotoReel Imagery!
I fell in love with photography at the age of 14 when I was diagnosed with epilepsy and had my very first seizure. I was looking for a way to express myself and one day I picked up my point and shoot camera and just started taking pictures. From that point on photography has been a crucial part in my life and has always been a passion of mine. In the back of my mind I knew I always wanted to make this a big part of my life and eventually create a business out of it - since I loved it so much. And that is exactly what I am in the process of doing right now. :-) On my site I have available a variety of small to large format pictures of flowers, buildings, and other various still life with my DSLR. I am now extending my photography on to portraits.
Thanks so much for the support! (C) PhotoReel Imagery
PhotoReel Imagery Photography joined Society6 on April 3, 2013.
PhotoReel Imagery Photography's Store
26 results
Filter