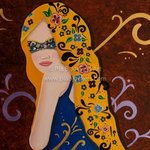 The art of Pia B-Jockers
Bienvenue dans ma boutique, Artiste auteur - Illustratrice, entrez dans mon univers coloré, féérique et féminin, et laissez vous envahir par ce besoin de vous échapper du monde réel. Ma technique favorite est la peinture acrylique, je travaille également l'aquarelle, et sur tablette graphique. Je travaille avec plusieurs partenaires sur des albums jeunesses et livres, des collections de cartes, etc., et j'ai ma propre collection d'objets que je crée moi-même et que vous trouverez dans cette boutique, ainsi que des bijoux d'artiste en modèle unique via ma boutique www.creationyume.fr Je reste à votre disposition pour toute question complémentaire. Féériquement, Pia www.piabjockers.com Welcome in my shop, Artist author - Illustrator, enter my colored, magic and feminine universe, and let invade you by this need to escape you of the real world. My favorite technique is the acrylic paint, I also work the watercolor, and on graphics tablet. I work with several partners on albums youths and books, collections of cards, etc., and I have my own collection of objects which I create myself and which you will find in this shop, as well as artist's jewels in unique model via my shop to www.creationyume.fr I remain at your disposal for any complementary question. Féériquement, Pia www.piabjockers.com The art of Pia B-Jockers joined Society6 on May 16, 2014
More
Bienvenue dans ma boutique,
Artiste auteur - Illustratrice, entrez dans mon univers coloré, féérique et féminin, et laissez vous envahir par ce besoin de vous échapper du monde réel.
Ma technique favorite est la peinture acrylique, je travaille également l'aquarelle, et sur tablette graphique. Je travaille avec plusieurs partenaires sur des albums jeunesses et livres, des collections de cartes, etc., et j'ai ma propre collection d'objets que je crée moi-même et que vous trouverez dans cette boutique, ainsi que des bijoux d'artiste en modèle unique via ma boutique www.creationyume.fr
Je reste à votre disposition pour toute question complémentaire. Féériquement, Pia www.piabjockers.com
Welcome in my shop,
Artist author - Illustrator, enter my colored, magic and feminine universe, and let invade you by this need to escape you of the real world.
My favorite technique is the acrylic paint, I also work the watercolor, and on graphics tablet. I work with several partners on albums youths and books, collections of cards, etc., and I have my own collection of objects which I create myself and which you will find in this shop, as well as artist's jewels in unique model via my shop to www.creationyume.fr
I remain at your disposal for any complementary question. Féériquement, Pia www.piabjockers.com
The art of Pia B-Jockers joined Society6 on May 16, 2014.
The art of Pia B-Jockers's Store
107 results
Filter