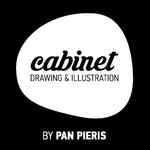 CABINET
Hi everyone. I am a graphic designer, an artist, an illustrator, a creative spirit and a helpless dreamer passionate about my work living in a small beautiful country called Cyprus. Welcome to my creative world! You can search my work by "pieris". Enjoy :) Pan Pieris | CABINET Please follow me at: FACEBOOK: https://www.facebook.com/pages/Cabinet-CY/1609865775961909?sk=info&tab=page_info INSTAGRAM: https://instagram.com/cabinet.art/ PINTEREST: https://www.pinterest.com/CABINETCY/ CABINET joined Society6 on January 15, 2015
More
Hi everyone. I am a graphic designer, an artist, an illustrator, a creative spirit and a helpless dreamer passionate about my work living in a small beautiful country called Cyprus. Welcome to my creative world!
You can search my work by "pieris". Enjoy :)
Pan Pieris | CABINET
Please follow me at: FACEBOOK: https://www.facebook.com/pages/Cabinet-CY/1609865775961909?sk=info&tab=page_info INSTAGRAM: https://instagram.com/cabinet.art/ PINTEREST: https://www.pinterest.com/CABINETCY/
CABINET joined Society6 on January 15, 2015.