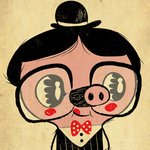 Pigologist
PIGOLOGIST aka 吴常瑀 Wu Chang Yu, set up her own illustration studio in 2009 and started selling paintings, art prints and novelty merchandises. Her illustrations received recognition for 2 merits by the judges of 3×3 Illustration Professional Show Annual 8. Gaining more fans and recognitions from creative agencies, she started illustrating for big names, Herman Miller, Ogilvy and Disney. Her dream of creating creatures out of 2D drawings led her into her 1st handmade limited edition elephant soft toy (10 only) at 2012.
Passionate about illustrating and creating products with wonderful tales, Chang Yu is committed to making things that would connect with her customers. She carefully picked her manufacturers and suppliers wherever possible to keep her customers away from toxic and eco-unfriendly products.
I hope you enjoy my ever growing products, as much as I enjoy making them for you!
PIGOLOGIST featured in: "Brands With Characters" by Basheer "Vectorism" by Gingko Press "3×3 Illustration Professional Show Annual 8 (recognized for 2 merits)" by one of the top three shows for international illustration.
PIGOLOGIST.com
Read more