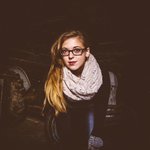 Memoirs of a Pilgrim - The Shop
A long lived love of photography and travel inspired the opening of this shop. Born and raised in Wisconsin, studied in Australia and traveled all sorts of crevices of the word with my trusty cameras in hand. I blog and share my adventures online and have selected the best of the batches to spruce up the most intriguing of interiors! Thank you for all your support. More of my work can be found by going to jamiepilgrim.com. Memoirs of a Pilgrim - The Shop joined Society6 on November 2, 2013
More
A long lived love of photography and travel inspired the opening of this shop.
Born and raised in Wisconsin, studied in Australia and traveled all sorts of crevices of the word with my trusty cameras in hand. I blog and share my adventures online and have selected the best of the batches to spruce up the most intriguing of interiors!
Thank you for all your support.
More of my work can be found by going to jamiepilgrim.com.
Memoirs of a Pilgrim - The Shop joined Society6 on November 2, 2013.
Memoirs of a Pilgrim - The Shop's Store
552 results
Filter