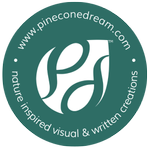 Gyaneshwari Dave | Pineconedream
Versatile artist Gyaneshwari Dave is a surface pattern designer, a published writer/poet, a nature photographer, and the founder of her creative brand Pineconedream.
Her art is inspired and driven by her perpetual curiosity, affection, and passion for nature. Apart from surface patterns, she has also illustrated her own poetry book - "A Word With Wilderness: Poems Inspired by American Nature".
You can visit the artist at - www.pineconedream.com
Read more
Cards by Gyaneshwari Dave | Pineconedream
17 results
Filter