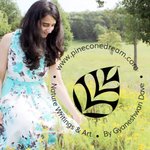 Gyaneshwari Dave | Pineconedream
Gyaneshwari Dave is a versatile Artist & Author.
She illustrates surface pattern designs, photographs, and writes poetry/articles inspired and driven by her perpetual curiosity, affection, and passion for nature. Apart from surface patterns, she has also illustrated her own poetry book - "A Word With Wilderness: Poems Inspired by American Nature".
Visit her at - www.pineconedream.com
Read more
Cards by Gyaneshwari Dave | Pineconedream
Filter
Cards by Gyaneshwari Dave | Pineconedream