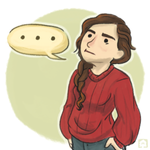 pinemoss
Megan Zahorik (Pinemoss) is a freelance illustrator. Much of her inspiration comes from her love of nature, beekeeping ventures, and knowledge of animals. She currently resides in Marquette, Michigan, where she is completing her BFA in illustration. She can be found on twitter, instagram, and facebook under @pinemoss, and is currently open for freelance commissions. Website: http://www.pinemoss.com pinemoss joined Society6 on November 19, 2014
More
Megan Zahorik (Pinemoss) is a freelance illustrator. Much of her inspiration comes from her love of nature, beekeeping ventures, and knowledge of animals. She currently resides in Marquette, Michigan, where she is completing her BFA in illustration.
She can be found on twitter, instagram, and facebook under @pinemoss, and is currently open for freelance commissions.
Website: http://www.pinemoss.com
pinemoss joined Society6 on November 19, 2014.