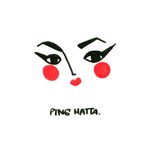 Ping Hatta. Studio
Instagram @pinghatta
A Little bit of Bangkok and a little bit of New York – Piamrak Hattakitkosol, or "Ping Hatta" in short, was born and raised in Bangkok, Thailand and moved to New York City at the age of eighteen. She is an illustrator, lingerie designer and printmaker working in fashion, beauty, and lifestyle. She primarily uses ink markers but also works across various mediums, including gouache, acrylic, embroidery, and linocut printmaking.
Bright, bold –and sometimes, funny– is how Ping Hatta perceive fashion. Her recent works celebrate the excitement (and the unexpected) that the fashion industry brought into the world. The series also pays homage to the world's renowned fashion designers: Fendi, Gucci, Diane Von Furstenberg, Dolce & Gabbana, and more. Ping also brings together her favorite elements to her fashionista characters – tropical colors, body and beauty diversity, indispensable sharp eyeliners and a touch of humor.
Her talent has been recognized by international publications and brands such as Vogue, American Illustration 37, Diptyque Paris, Saks Fifth Avenue among many more.
Read more