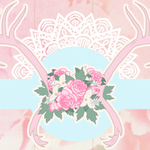 Pink Caribou Art
Hi, I'm Mary – an artist + creatrix living in Leicestershire, UK! Thanks for popping over here to my Society6 shop! Creating is my life force. Without it, how would I breathe? With it, I pour my soul, eyes, ears, voice, tears, and joy into a bottomless glass vat for all to see and take part in. When I'm not making art or photographing my world, I do other things. I'm crocheting, knitting, embroidering, scrapbooking, reading, foraging, singing, exploring, shopping, cooking, writing, or being obsessed with the weather. And it's rare to see me without a big mug of tea all the while! All art and photography are ©Mary Goodger. Find me on Redbubble too! (pinkcaribouart) www.goddess-within.me Pink Caribou Art joined Society6 on August 9, 2014
More
Hi, I'm Mary – an artist + creatrix living in Leicestershire, UK! Thanks for popping over here to my Society6 shop!
Creating is my life force. Without it, how would I breathe? With it, I pour my soul, eyes, ears, voice, tears, and joy into a bottomless glass vat for all to see and take part in.
When I'm not making art or photographing my world, I do other things. I'm crocheting, knitting, embroidering, scrapbooking, reading, foraging, singing, exploring, shopping, cooking, writing, or being obsessed with the weather. And it's rare to see me without a big mug of tea all the while!
All art and photography are ©Mary Goodger.
Find me on Redbubble too! (pinkcaribouart) www.goddess-within.me
Pink Caribou Art joined Society6 on August 9, 2014.