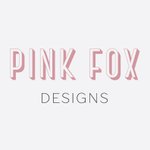 Pink Fox Designs
My name is Kirsten I'm a designer and photographer. I graduated with a degree in Graphic Design from Stevenson University. In my shop and business, Pink Fox Designs, I sell my designs, inspired by minimalism, femininity, vintage, and nature. See my Etsy shop! https://www.etsy.com/shop/ThePinkFoxDesigns See my portfolio! http://kirstenanngraphics.com/ Read le blog! http://thepinkfoxdesigns.wordpress.com/ Follow me on Wanelo! http://wanelo.com/store/thepinkfoxdesigns Follow me on Pinterest! http://www.pinterest.com/PinkFoxDesigns/ Pink Fox Designs joined Society6 on January 8, 2014
More
My name is Kirsten I'm a designer and photographer.
I graduated with a degree in Graphic Design from Stevenson University. In my shop and business, Pink Fox Designs, I sell my designs, inspired by minimalism, femininity, vintage, and nature.
See my Etsy shop! https://www.etsy.com/shop/ThePinkFoxDesigns See my portfolio! http://kirstenanngraphics.com/ Read le blog! http://thepinkfoxdesigns.wordpress.com/ Follow me on Wanelo! http://wanelo.com/store/thepinkfoxdesigns Follow me on Pinterest! http://www.pinterest.com/PinkFoxDesigns/
Pink Fox Designs joined Society6 on January 8, 2014.